Meet the Commissioners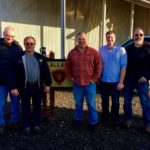 The recent Clallam County election results were certified on November 28, 2017.
Your Clallam County Fire Protection District No 1 commissioners are (from left to right): Dave Burt – Chairman, John Buonpane, Tony Romberg, Dustin Kraft & Chet Hunt.
---
Invitation to Presentation on Emergency Preparedness Programs for Forks and Surrounding Communities on Wednesday – December 13th
30 Days ~ Many Ways
The Commons – Forks High School
December 13, 2017
Wednesday
5:30pm – 7:30pm
Clallam County Emergency Management will be providing information on how individuals' actions are key to building communities that are resilient in the face of emergencies, disasters, and catastrophic events. This presentation will provide information about programs being offered for the West Olympic Peninsula residents and businesses. There will be specific attention to the Community Emergency Response Team training sessions scheduled for Wednesday evenings at Forks High School starting the first week of January, 2018.
Need more information…
Jamye Wisecup
Clallam County Sheriff's Office
Emergency Management Unit
223 E. 4th Street Suite 12
Port Angeles, Washington 98362
360-417-2525 (v) 360-460-2932 (c)
---
Winter Safety Tips for the Community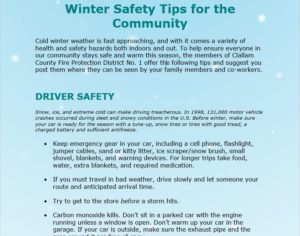 Cold winter weather is fast approaching, and with it comes a variety of health and safety hazards both indoors and out. To help ensure everyone in our community stays safe and warm this season, the members of Clallam County Fire Protection District No. 1 offer the following tips.
Click on the picture on the left to review some important winter safety tips.
---
Kidde Recalls Plastic Handle & Push-Button Fire Extinguishers
Kidde has issued a product safety recall involving two of their disposable fire extinguishers:
Plastic handle fire extinguishers
Plastic push-button fire extinguishers
Kidde estimates that this recall affects nearly 37.8 million fire extinguishers in the United States, which can become clogged or require excessive force to discharge and can fail to activate during a fire emergency. In addition, the nozzle can detach with enough force to pose an impact hazard.
So far, there has been one death report involving the recalled fire extinguishers.
For a summary of recalled fire extinguisher models, click on the above image to view the Advisory Pamphlet.
If you believe you have one of the defective fire extinguishers, please visit the Kidde website
for return instructions.
---
How to Put Out a Campfire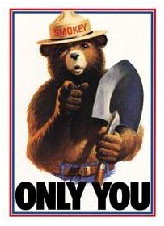 Escaped campfires are a preventable cause of wildfires.  Don't let your campfire become a wildfire!
Click on Smokey Bear on the left to link to the Okanogan-Wenatchee Forest Service Page for tips on how to properly extinguish a campfire.
---
It's a Fact – CPR Saves Lives!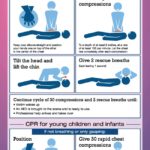 Each year in the United States, more than 395,000 people suffer sudden cardiac arrest.
Click on the picture on the right to link to the National Safety Council's page CPR Steps: Learn How to Save a Life.
Permission to reprint granted by the National Safety Council.
---
The Lighthouse Uniform Company Helps Families Honor Firefighters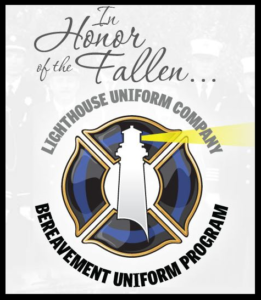 All too often, the families of fallen firefighters struggle to find a way to honor the selfless service of their loved ones.
In 2012, The Lighthouse Uniform Company established a program to provide the families of firefighters – active or retired, paid or volunteer – with a dress uniform for their loved one to be laid to rest in.  Called the Bereavement Uniform Program (BUP), the company collects donated dress uniforms from various fire departments, reconditions and cleans them, and provides them to the family at no cost.
To learn more about this important program, please click on the link: http://bereavement.lighthouseuniform.com/
---
Clallam County Fire District #1 Receives Donation to Save Pets From Fire
FORKS, WA – (May 3, 2016) First Responders with the Clallam County Fire District #1 are now some of the best-equipped in the nation to save a pet's life. That's because Invisible Fence Peninsulas has donated two pet oxygen mask kits to the department.
This donation is just a small part of Invisible Fence® Brand's Project Breathe™ program, which was established with the goal of equipping every fire station in America and Canada with pet oxygen masks. These masks allow firefighters and EMS staff to give oxygen to pets who are suffering from smoke inhalation when they are rescued from fires and often save pets' lives.
Invisible Fence® Brand has donated a total of more than 12,400 pet oxygen masks to fire stations all over the U.S. and Canada throughout the life of the program. A reported 150+ pets have been saved by the donated masks so far, including 33 dogs saved over a 24 hour period by Metro Fire in Sacramento County, CA in January.
"When a family suffers the tragedy of a fire, lives are turned upside down," said Ed Hoyt, Director of Invisible Fence® Brand. "Pets are valued family members, so we want families to know that their pet can be cared for if tragedy strikes."
"We realize that humans are the first-priority, but in many cases, pets can be saved if firefighters have the right equipment," said Hoyt. "Project Breathe™ program is simply a way of giving firefighters the tools necessary to save pets' lives."
The Forks area is now joining the ranks of cities like Seattle, Chicago, Denver, and Salt Lake City who have all received donated pet oxygen masks from Project Breathe™ program.
"Thank God they had the masks. They (the dogs) are just like family. I don't know what I'd do without them. Things can be replaced. Lives can't, whether they're animals or people." Said a pet owner whose dogs were recently rescued using donated masks.
Although the number of pets that die in fires is not an official statistic kept by the U.S. Fire Administration, industry web sites and sources have cited an estimated 40,000 to 150,000 pets die in fires each year, most succumbing to smoke inhalation. In most states, emergency responders are unequipped to deal with the crisis. The loss is terrible for the family, heart wrenching for firefighters.
The company has set up a website, Invisible Fence® – Project Breathe™, where local fire personnel can make a request for their own departments.
About Invisible Fence® Brand
Invisible Fence® Brand is the original electronic pet containment system and offers a comprehensive family of containment, avoidance, and access products to keep pets out of harm's way and prevent unwanted behaviors throughout both the home and yard. Owned by Radio Systems Corporation in Knoxville, Tenn., Invisible Fence® Brand solutions are sold nationwide by professional, authorized dealers who provide Perfect Start™ Pet training and custom installation that have safely contained over 2 million pets. Invisible Fence® Brand has taken pet care beyond the home and started the Project Breathe™ program, which has donated more than 11,500 pet oxygen masks to fire departments and first responders. For more information on Invisible Fence® Brand or to find a local dealer, visit Invisible Fence®.
---
Forks FD Teams Up with the American Red Cross
On December 12, 2015, volunteers from the Northwest Region of the American Red Cross and the Forks Fire Department deployed to the Alder Grove neighborhood as part of a joint fire prevention project.
According to Don Zanon, the disaster relief services coordinator for the Olympic Peninsula for the American Red Cross, and District Chief Bill Paul, the goal of the project was to both educate the neighborhood residents on the importance of having a working smoke alarm in their home, and to install new smoke alarms in those homes that needed them.  The lead-up to the event included two weeks of preparation and coordination, and culminated with the installation of 113 smoke alarms in 54 homes.
Chief Paul said that given the success of the Alder Grove event, the project would be extended to other neighborhoods in the future.  The Chief went on to say that he would like to thank the American Red Cross for their planning and leadership during the project, and to thank all the volunteers involved for their hard work and dedication to saving lives.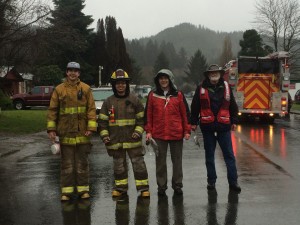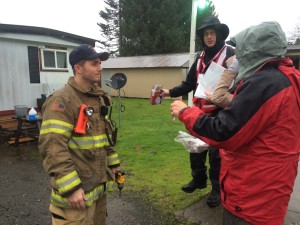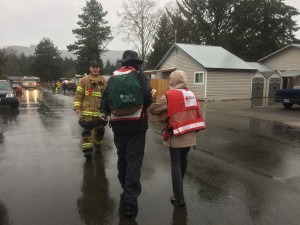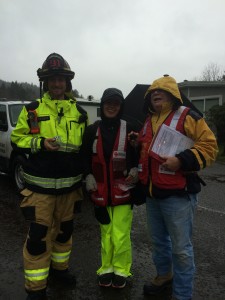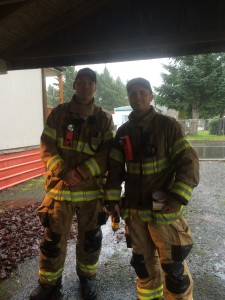 ---